Despite the heavy digitisation of marketing and advertising, direct mail is personal, targeted and with its proven historical effectiveness, it has the sticking power of familiarity.
In the marketing mix, direct mail becomes stronger when interlinked with other newer media forms, the most pertinent being video which has seen a meteoric rise to the top of the online content chain.
But how do you integrate video, a type of digital media, with print, a type of physical media?
Video in Print
In 2009, Pepsi and CBS added screens to magazines in limited runs. That's 9 years ago and whilst we're still not commonly seeing full-blown video pages in regular publications, there have been more than a few shining examples of ways video can be integrated into print.
Lexus
In 2013, Lexus used an updated form of CinePrint to create an interactive video page advert in a regular magazine. After uploading the video content and placing the device underneath the page the magazine lights up and animates in a spectacular fashion.
Sonera
Sonera, a telecoms company, highlighted their superfast 4G network with this interactive speed game. You scan the advert which automatically loads the game in your browser, place the device and compete against someone else in a game of reactions.

In their magazine periodical, CW Network installed an actual 3G-enabled basic smartphone to broadcast tweets to their network in real time. The novelty of tweeting only to see it pop up in front of you is pretty astounding and even though we imagine that these magazines were fairly costly to produce, the cost is decreasing rapidly.
Augmented and Virtual Reality
Augmented and virtual reality is the holy grail for mixed media physical print advertising. Whilst the technologies have come on leaps and bounds in the gaming industry, they're still generally on the fringes as far as advertising is concerned. However as these content mediums increase in adoption, VR and AR campaigns will become accessible and integrated with social media, direct mail and will be heavily used at events and tradeshows.
Monarch Airlines created this AR interactive ski map where viewers can explore ski destinations with an accompanying narration by pro-British skier Chemmy Alcott. The map generated 13,000 scans amounting to $3 million in sales, a return of investment of 18:1.
AR Games – The Machine
AR games with printed levels and environments are becoming more common in the modern gaming industry. There is growing potential to direct mail qualified leads with games which feature optional paid content.
Google Cardboard
Although Google Glass struggled to reach mass market adoption – you could say it was a bit too early on the AR scene – Google Cardboard has proved a different beast. These inexpensive cardboard VR glasses coupled with your smartphone provide a simple yet effective VR experience.
You can also brand Google Cardboard glasses with your own company information. From interactive brand videos to promotional games, video testimonials, demonstrations, walkthroughs of spaces, environments, conference centres, birdseye drone footage. The sky really is the limit when it comes to VR and AR-enabled marketing.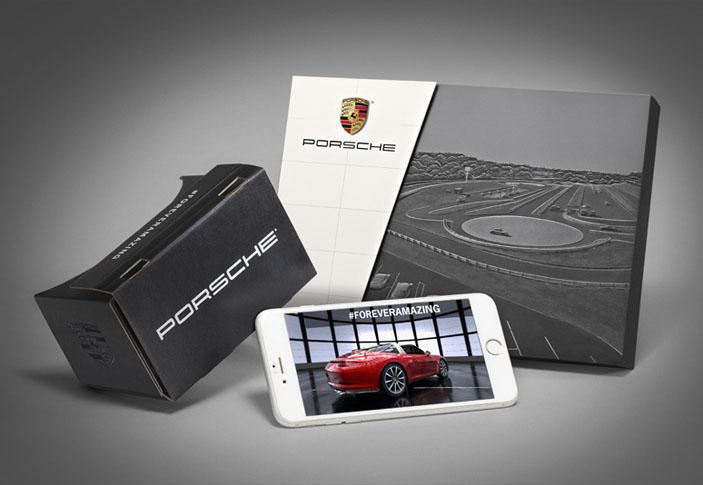 Google Cardboard retails at £3.89 but bulk orders will certainly bring the cost down – mailing them as a part of a VR campaign is certainly feasible. By providing recipients with a genuine Google-branded product you're creating a sense of reciprocity, making recipients more likely to follow your call to action, whether that's viewing an advert, checking out your website, subscribing, etc.
Big brands have taken to VR to revolutionise their marketing efforts, vastly increasing brand engagement.
In "360 Shades", Robin Schulz one of Germany's all-time biggest music producers highlights how to incorporate virtual reality into traditional niches such as mail and printed advertising. In this direct mail campaign, Warner Brothers sent selected recipients VR glasses with print graphics resembling his signature sunglasses. Recipients could put the glasses on and experience the video for his new single 'Sun Goes Down' within a 3D VR experience.
This form of direct mail had a response rate that was 12 times higher than by sending the song via email. A massive 68% majority of people opened the mail and followed its CTA to watch the video!
Video Brochures
Adding video content to your print advertising is an effective tactic to improving your marketing efforts, KissMetrics found that after watching a product video, consumers are up to 85% more likely to purchase the product shown, also in addition to adding video content remember to harness the power of psychology to boost your video's engagement and conversion rate.

Video brochures may become a new paradigm for video-in-print. They combine slimline LCD screens with traditional print brochures – the video auto-plays when the recipient opens the brochure! This form of marketing media is highly memorable and engaging – you don't suspect to receive a video brochure through your letterbox and that alone helps form long-lasting impressions.
This content medium certainly provides your audience with a WOW! factor and as a leading manufacturer of video in print we'll help ensure that your message is impactful and memorable for your audience.

Saunderson House, a high-end finance company work with lucrative estates and high-net-worth individuals. In the past, they've heavily relied on direct mail for inviting prospects, customers and partners to their events and tradeshows. Including video content within direct mail mediums can increase sales by up to 81%,  Saunderson House recognised the importance of using more innovative marketing mediums and decided to trial video brochures within a partner advocacy campaign, that won them 6 new clients!

Quinn London is a construction company that specialises in developing heritage sites such as Hampton Court Palace, Bletchley Park and The National Gallery.
Quinn London recruited the use of video business cards to heighten brand engagement. Their business cards provided a case study for their recent Gunnersbury Park project and showcased their collaborative work with the Ealing Council, National Lottery Fund, Historic England and the London Borough of Hounslow.
Quinn London used the video component to display key information about the project and even provided a drone-shot aerial update to show the current progress of their restoration work.
QR Codes
The QR code was a novelty when it came out in the early 2010s, it's a basic but inexpensive way to connect your direct mail marketing with video content.
Its vital that you correctly incentive your audience to take the necessary action to take action on your QR code, one tried and tested method is to partner your QR code with a discount.
Ford
Ford revived the QR code in 2014 with this interactive magazine ad. You simply scan the QR code, place the phone and watch as the video interacts with the printed page. It's a bit of a novelty but it's still unusual, thoughtful and creative – it's an effective way of making adverts stick in people's minds.
Conclusion
Mixed medium marketing like video-in-print combines the senses, forming a tactile and visual experience which is highly memorable and engaging – two essential factors in successful marketing.
It's a new dawn for print mail: video in print's accessibility is increasing and provides a range of innovative methods for smaller brands and businesses to engaging and attracting customers.
Brands which embrace these new forms of highly impactful and innovative marketing collateral soon will likely see the greatest benefits.