Video marketing first appeared on our television sets in the late 1940s and has become a key component of our media culture. It's likely that most people can recall a number of video adverts in detail, but what truly makes a video marketing campaign memorable or engaging?
According to scientific studies, memorable videos have one or more of the following five characteristics:
Humour
Emotion
Relatability
Easy to follow
Conversational
Balancing these elements throughout the duration of a video isn't easy and evidence suggests that in the modern internet marketing era, marketers have even less time to grab people's attention. Still, despite these challenges, marketers must remain faithful to video's superiority over other content formats.
Why Use Video Content?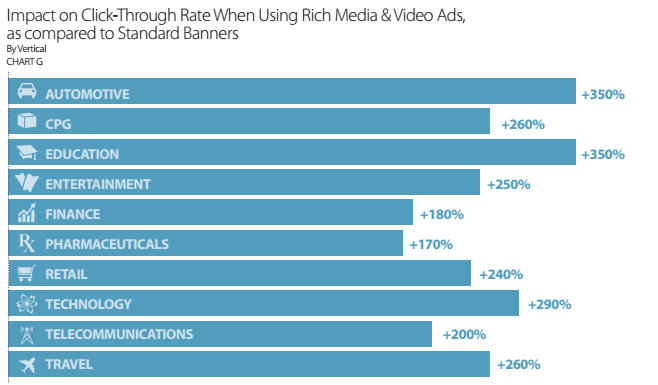 Now that you've seen video's effectiveness as a content medium, are you ready to gain some sizzling video campaign ideas? Read on and be inspired by 12 of the best B2B/ B2C videos so that your next video marketing campaign simply oozes with creativity and innovation.
Video Marketing Examples
Campaign Type: Viral Video Marketing
Canadian Tire is a major department store-type retailer that sells everything from car parts to homeware and clothing. Ahead of the Olympics and in the light of domestic political issues surrounding the Syrian refugee crisis, the company started a campaign named "We all Play for Canada" with an aim to promote positive values such as diversity and inclusivity.
Their first video, "The Outsider", focussed on an Asian child who is picked for a kid's baseball team, despite protests from teammates that he probably has no idea how to play. In the end, the child's cricket skills serve him well and he earns the respect of everyone on the field.
The second video, "Wheels", focusses on a group of children who alter their game of basketball so that their disabled friend can join in.
"Wheels" and "Outsider" were placed first and second for "most enjoyed ads" according to Toronto Charlton Insights and positive opinion for Canadian Tire rose by 13%. The retailer was ranked first for "increased purchase intent" when compared to all other Olympic advertisers. "Wheels" was a tremendous success in terms of viral marketing and received 40 million views on Facebook without any paid support.
Key Points:
Both videos are powerful, emotive and wonderfully uplifting. The behaviour of children provide adult viewers with a means of seeing how youthful pragmatism can help us combat prejudice – the solution doesn't always have to be complex.
Emotive messaging that resonates with the viewer
Leverages the classical Newsjacking technique
A two-part campaign
Campaign Type: Brand Awareness
Sports brands are often focussed on producing energetic, motivational videos that inspire the viewer and encourage athleticism. However, Reebok decided to take a sensitive approach and conveyed their message about the lifetime of a human, which is approximately 25,916 days on average.
Reebok's video shows the life of a middle-aged woman in reverse, following her throughout her middle age, adult, teenage and child life all the way back to her birth.
The fundamental message conveyed is to take care of your health and it creates optimism by illustrating the woman as continuously running throughout the course of the video. The women's' internal drive enables her to win against an older boy in a school race, push a pram up a hill and even run a Spartan race in her older age.
Key Points:
There is no dialogue in the video which only intensifies the message and provides the thinking space to easily digest the content.
Effective videography without dialogue
Potent message
Motivating
Campaign Type: Brand Awareness
In the last decade, Coca-Cola has made a conscious effort to improve their corporate and public image. "The Last Customer" takes place at Christmas time in the Philippines and focuses on those who work tirelessly to serve customers at shops and restaurants over the seasonal period.
After setting the scene, this video runs through a series of 3 emotional interviews with individuals who have no choice but to work over the Christmas period, forgoing the opportunity to see their families in the process. This emotional journey is relieved by Coca-Cola who in the form of the 'last customer' before Christmas, provide the 3 individuals with free presents and meals.
Key Points:
Leveraging negative emotion or scenarios in marketing can be tricky but Coca-Cola carefully reduced any negative connotations by specifically focusing on the joy created for the 3 individuals. The individual's authentic responses certainly have a potent effect on the viewer: videos with purely emotional content have been shown to be twice as effective than those which contain no emotional content at all.
True-to-life emotional message
Genuine and authentic
A Creative title "The Last Customer"
Campaign Type: Customer Success Story
Customer success stories are reliable methods of building credibility and trust for your brand. This video is pitched from the perspective of ShoreTel, a telecoms company that recently upgraded to HubSpot for their inbound marketing and sales needs.
The video centres around ShoreTel's senior manager of search and analytics who walks viewers through the reasons why ShoreTel chose HubSpot over the competition whilst highlighting the product benefits and how they helped resolve ShoreTel's demands.
The key to creating a good customer success story is legitimacy and authenticity and that's what Hubspot perfectly achieves in this video.
Key Points:
A simple but highly effective video for building credibility
B2B advertising that uses a prolific corporate figure to carry its message
Campaign Type: Brand Awareness
The content marketing company Fifth Story take a rather conventional 'show and tell' approach but the result is an effective and easily understood video that clearly explains their brand, processes and unique selling points.
With a slickly edited series of multiple shots, this video comprehensively describes what the company does and enables Fifth Story to solidify their position as an 'end to end content marketing agency.
This video is a perfect example of high-quality production as the transitions, shots and animations that add a dynamic yet professional feel to the video. It's fluid and transfixing, keeping your eyes locked in as it pleasantly shows you the mechanics of the content marketing process. The video seems to project this fluidity back onto the brand itself. Somehow, you can't help but inherently trust that Fifth Story is a good agency just by the sheer quality of their video content.
Key Points:
A modern and quirky video that still covers every point of the product
Slickly filmed and animated with great transitions
Campaign Type: Company Promotion
The video production company Sandwich Inc unpromptedly created this video for Slack (or so they say), probably to promote their own company alongside the ways Slack enhanced their productivity.
This video firstly presents a relatable, common problem for many businesses which is communication and the pain associated with simultaneously using several tools such as Jira and Google Sheets to manage internal projects. Slack is presented as the solution 'that they never knew they needed' and Sandwich Inc playfully portray the benefits of the messaging app from the various comical perspectives of their team.
In response to this problem, this video illustrates how Slack:
Makes internal business messaging simpler and cleaner
Integrates with workflow apps such as DropBox
Key Points:
Like Fifth Story's video, it's a great example of how slick composition, editing and transitions can bring a video to life in a fun and creative way whilst retaining the real-world value of product demonstration and explanation.
The real distinguishing element of this video is its informal mockumentary style – it's almost the opposite to HubSpot's more corporate ShoreTel testimonial.
Amusing mockumentary style
Effective videography and composition
Campaign Type: Brand Awareness
Tech firms such as Elemica face the complex task of explaining 'automated digital supply networks' in a message that's relatable and suitable for advertising. Additionally, oddball, hard to pronounce or unmemorable names such as 'Elemica' are often bourne from Silicon-valley coffee shops or conferences with little thought to their long-term name equity. Elemica needed a way to boost brand awareness and memorability.
The solution? Create a video without any product or brand information.
Key Points:
This brand awareness video is pretty simple and linear in its approach. It does nothing more than simply show various employees fail to get the name right. It doesn't actually advertise what the company does but it does provide enough playful curiosity to action the viewer into researching Elemica.
Incites curiosity without getting bogged down in details
Simple to create
Campaign Type: Product Explainer
HubSpot speaks directly to marketers in outlining common and relatable difficulties such as:
Managing multiple accounts and logins
Grouping data and creating analytical reports on ROI, etc, across lots of different applications
Poor work efficiency resulting from balancing conflicting platforms
HubSpot then details how they can fix these problems to make the life of a marketer easier and it does so with strong and well-worked animations that keep things clear, direct and effective. This video finishes on a strong factual note by stating that over 10,000 major corporations from over 60 different countries use HubSpot.
Key Points:
Whilst HubSpot applies directly to those in sales and marketing, this video is clear and straightforward and it can provide anyone with a good insight into what HubSpot does and how it can help marketers. This makes it highly relatable to viewers in either B2B or B2C environments.
Very well composed explanations
Effective animations are clear and concise
Campaign Type: Customer Success Story
This video subtly promotes Salesforce through the vessel of a Barclay's success story.
Firstly, the video showcases Barclay's organisational issues, particularly with the available methods that brokers can use to service their customer's mortgage enquiries. It then slowly progresses and highlights how Barclay's worked in tandem with Salesforce to deliver an innovative mobile application that assists the communication between customers and brokers.
This video is comprehensive and features insights from three top professionals. It certainly takes a sincere and corporate approach, which is appropriate for a finance company like Barclay's and the steely monochromatic visual style suits this perfectly.
Key Points:
Effective visual style for the industry
A subtle form of advertising that puts Barclay's in the spotlight
Indicates how Salesforce had a key role in this extensive program
Campaign Type: Product Explainer
Introducing and explaining an entire platform in a concise video is a difficult task. Zendesk focuses on explaining how it can help both businesses and customers. The video story takes the form of a walkthrough and shows the different components of Zendesk whilst talking viewers through the platform's benefits.
This video's graphical style makes it easy for viewers to visualize the ways the platform works and how it could help them resolve their existing customer service issues. The futuristic, quirky and dynamic animations help to further enhance how the tool could be used. ZenDesk's added sound effects for the animation transitions are cleverly complemented by playful music.
Overall, Zendesk manages to portray their product as a user-friendly, easily implementable and effective customer service platform.
Key Points:
At the end of the video, the boom-pole operator is shown to momentarily disrupt the video to provide a light comedic element as the video reaches its closing stages.
Easily understood animations and screencasting
Quirky sound effects keep the viewer's attention
Campaign Type: Social Media/Customer Interfacing
Hootsuite, rather like HubSpot, aims to aggregate the dynamic components of an essential modern business, in this case, social media, into one tool.
This video is rather traditional as it focuses on employee interviews and real-life customer interactions, providing insights into how and why social media has become such a prominent component of the diverse brand Virgin. The video is social in its look and feel and remains humanistic throughout its duration – it doesn't attempt anything too complex or far-out.
Key Points:
Whilst remaining subtle, it becomes increasingly obvious that the methods that have helped Virgin become so competent with social media are partly thanks to HootSuite. This enables HootSuite to position themselves as a platform that empowers businesses without focusing extensively on their product features, functionality or overstating their role within the context of this organic video.
A traditional interview-based style is humanistic and relatable
A subtle hint at how HootSuite helped Virgin is still impactful
Campaign Type: Brand Awareness/Product Explainer
Eloqua's video does entirely away with corporate graphics and modern animations in favour of fun and comedy. As soon as you hit play on this video, it's entirely obvious that this is not your average story or video script and that alone draws you in.
As the video progresses, you quickly realise that Eloqua is an innovative marketing company with a modern product that aggregates the essential components of marketing into an automated platform.
Key Points:
Comedy is the main tool that Eloqua uses to portray its point and in this case, it really works. There are no half measures – they go all out with the medieval theme and animations.
Another interesting aspect to this video is that it's part one of four in a series which overviews various marketing pain points and Eloqua's solutions. This goes to show that if you're struggling to fit everything you want into one video, you can split up your themes and ideas into a mini-series.
Off-the-wall, unique and brave style
Impactful and memorable with quirky animations
Still explains the industry, the pain points and Eloqua's solution effectively
Conclusion
Video is the biggest trick in the content box when it comes to brand awareness, product explanations and customer success stories and it's your biggest ticket to more leads, sales and greater ROI. Creating a video campaign may seem like an undertaking but with the inspiration from these tremendously successful examples and armed with these awesome tools you'll be creating awesome video content in no time.