The Goals of a Video Script
You probably have a vision in mind for building the perfect piece of video content, but the realities of a tight budget, limited length or crafting a compelling narrative can make creating an effective video content challenging.
A video marketing script provides you with an easy way to overcome these common challenges. Also, it allows you to formalise your ideas, refine your story and enables you to make high-quality video content with less budget, time and resources.
Breakdown of an Example Video Marketing Script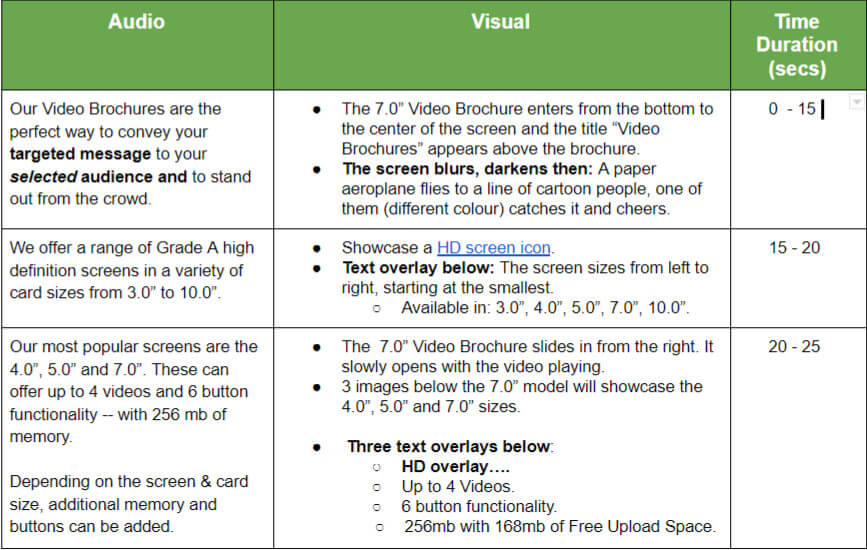 The audio, visual and time-duration sections of the video script storyboard are the foundations of a good video marketing script, allowing you to fully define the overall vision and execution for your video content.
Audio
Include your voice-over audio content within this section, additionally you can include sound effects and highlight words that you'd like to be emphasized when the script is recited.
Visual
Describe each scene in every detail to refine your story, remember to include the following:
Visual elements and props
Transitions
Text overlays
Animation effects
Time-Duration (secs)
Estimate how much time each section will require, this allows your video team to see which elements or messages you'd like to place more emphasis on.
Get Started: Craft Your Brief

Starting with a brief allows your team to document all of their ideas, motivations and the most important project questions that need to be answered. To make an incredible brief it's worth including the following:
Roles & responsibilities: Defining clear roles and responsibilities ensures that everyone knows what they will be accountable for.
Goals: Create clear SMART goals for what you want the video to achieve. Are you advertising a product or service? Are you increasing brand awareness? Be as laser-focused as possible.
Audience: Who is your audience? Are they prospective customers, existing customers? Do you have any demographic information about them? How old are they? Are they tech-savvy or creative? Millennials or senior professionals, etc. Knowing this will help you create the right tone and guide your use of language.
Value: How will your video content be valuable?
Key takeaways: What are the key takeaways for the video? What do you want viewers to learn or remember?
Frame It: Narrate and Wireframe the Scenes
Describe each scene in detail to refine your story, remember to include characters, transitions, visual and audio elements so that anyone receiving it would easily understand your stories vision and be able to produce the video content.
Separate out your video script into the following sections:
Introduction – The Initial Hook
Main Message
Call to Action
Each of these 3 core elements can be fully described over several scenes to help explain your story.
Introduction – The Initial Hook
Your initial hook is essential in getting your viewers to commit to fully watching your video past the 8-second mark. Several good hook examples include:
The Main Message
Write down a few things you want your viewers to know and remember about your product or service. How is your product/service different? Is it affordable, or easy to use? Is the customer service outstanding?
Backup your points with facts and give evidence as to why and how you can help.
Reiterate any pain points and explain any immediate questions that the audience might want to ask.
The Call To Action
Are you looking to sell a product, get subscribers, shares, or follows? You know what you want viewers to do, but don't assume that viewers do too. Creating crystal clear call to actions allows your audience to easily understand what you would like them to do.
Scope It: Fill In Budget, Space & Equipment Needs
Acquire the necessary budget before committing to writing your video script, your budget consist of the following:
Equipment Costs
Internal Resources Required
Space Requirements
Once you've achieved buy-in to produce the video content, you can use our free template to start writing your video script.
Perfect, Practice & Adapt
Refine your script
After you've written your first draft its worth editing the copy, visuals and discussing this with your team members. Refining your script is an important part of the process, it makes the presenters' role easier and ensures that your core messages are being expressed within the final video content.
Practice your script
You'll need to practice bringing your script to life on camera.
Why practice and repeat the video script? Reptition allows your video presenter to transfer the voice-over content (main narrative) from their conscious to the subconscious, thus freeing up additional mental resources that can be used to produce complementary hand gestures for further strengthening your story and message.
Additionally, the extra practice means that on the final shoot day there will be fewer retakes, which will ultimately reduce your required editing time during the post-production process.
Adapt and use video analytics
You can gather feedback from your creative teams (video, design) and the presenter as they present the video content in order to see whether or not your video script was a success.
Look for elements on the script that could've been explained better and use this feedback for your future video projects.
After uploading your video content to YouTube, Instagram, Twitter & Facebook, you should use video content analytics to understand what areas require improvement and what worked portions of your video performed well.
Video Script Template + Tips

Write Conversatio

n

ally
Unlike market research reports or formal documents, it's best for your video script to be written in the tone that you want your video subject to speak in.
Differentiate B-roll, text overlays, the main narrative (voice-over) and transition cues
It's crucial that the different elements of your text be distinguished easily. Simply use bold/italics and font-colour so that when anyone reads your video script they can clearly understand the difference between your text overlays, B-roll and main narrative.
Write for the platform
Every platform has a different maximum video length, audience and therefore your video script needs to be aligned to meet the needs of the platform and people.
For example, if you're writing a long-form explainer video for YouTube, you'll need to create longer sections and provide greater depth for the topic. However, if you're creating a short-form video for Facebook, you may wish to consider using shorter more concise words and sentences to explain your message in a short space of time.
What Are The Benefits of a Video Marketing Script?
Understand quickly if a concept is workable or not
Video scripts and storyboards bring your desired concepts to life, these concepts are usually written in a few paragraphs of text and you'll soon begin to see whether or not your concept is worth pursuing or not.
Effectively utilizing the budget
Writing a video marketing script allows you to express your thoughts, vision and refine your story so that it can be effectively shared with your team, freelancers or in-house videographers.
By spending more time refining your script you'll save money as your creative team will:
Need to make fewer revisions.
Have a clearer picture of what creative content needs to be produced.
Produce better content due to having a clearly defined brief.
Create better alignment between teams
Video scripts and storyboards help you align different marketing functions as everyone can easily view and discuss your concepts within meetings.
Effective media choice
It's crucial that you utilise the most relevant media such as graphics, charts and animations to make your story engaging and impactful. It may take you several times to identify, innovate and choose the right media formats that best compliments your voice-over.
A video script allows you to try different approaches to crafting your story. By experimenting with potential copy and media before producing your video content you'll be less likely to create unnecessary assets.
Questions for improving your media selection:
Is all of the content being represented well by the chosen media pieces?
Is there a strong alignment between the narrative and visual elements of the video script?
What ways could the graphics be more useful and help the viewer understand the message succinctly whilst remaining engaging?
I've Never Written A Video Marketing Script Before, How do I Start?
If you're a writer without any script writing experience, or if you're not even a writer at all, but you're taking on this project for your business, this post will help get you started.
And if you have some time before the project (or even during) a great way to learn script writing is by creating a writing habit.
How Long Should a Video Marketing Script Be?
In 2016, Wistia did a survey on video length and found that videos up to two minutes are optimal in most situations. But there is more to video length when it comes to the success of your video.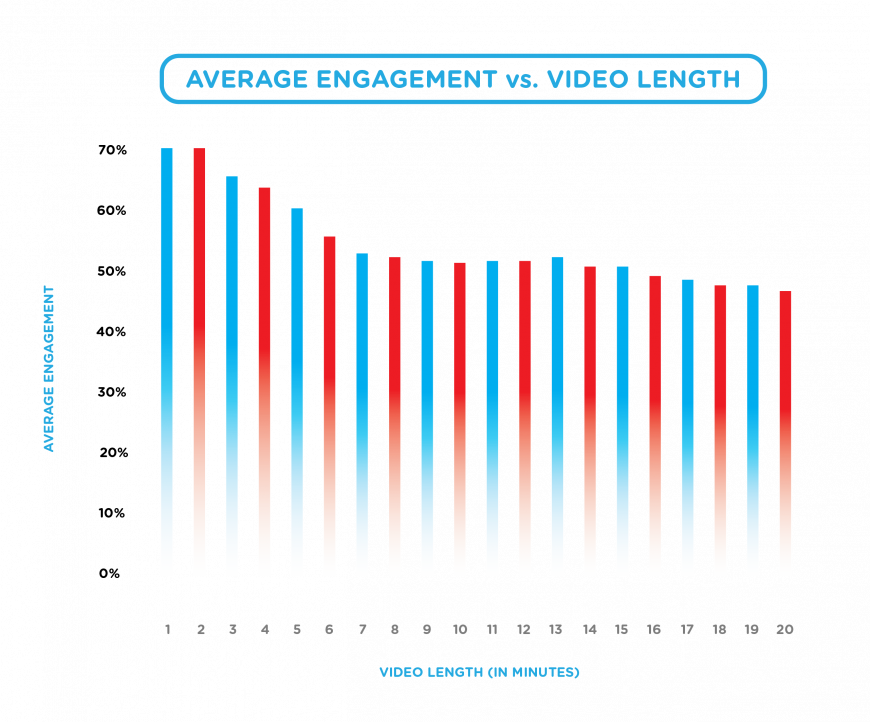 If you want to create a video script, focus more on quality than length. Your script needs to be epic in order for it to create that wow factor and achieve results.
When You Should Script Your Videos
Video scripts are great for education, promotion or explainer video formats, however, any video that needs refining or sharing with others would benefit from being written in the form of storyboard or script.
Common Mistakes To Avoid Whilst Creating Your Script
Leaving Your Story Incomplete
A complete story ensures that when the video is recorded and produced the content flows well, your viewers are never left hanging and all of your messages have been successfully delivered.
Forgetting the Plot (or, Skipping the Outline)
Whilst writing your script its essential that you cover all of the points that you previously defined within your outline, meaning that when the video is finally produced it will be closely aligned to your original vision and is more likely to help you achieve your business goals.
Neglecting Spelling & Grammar
Poor spelling and grammar is the last thing that you need within your script, use tools such as Grammarly so that when it comes to sharing your script within meetings, it reads perfectly.
Final Thoughts
Whatever the goal, whatever your writing aptitude, and whatever the length, it's totally possible to have a swoon-worthy video marketing script. Don't be afraid to use your story, or that of your business' to really connect with your audience while keeping in mind that the quality of the content is more important than the quantity (in this case, the length of your video).
Create something epic.
Or let's do it together. If you're ready to bring video into your marketing mix, learn more about our work.