Other forms of print media may come and go but even widespread digitisation of business, commerce and communication can't fully shake the humble business card out of our pockets and wallets.
The Traditional Business Card

Business cards are the first content asset you reveal in face-to-face networks and events like meetups, conferences, seminars and trade shows. Statistics show that 72% of people still judge businesses by their business cards!
The business card's diminutive format means that it can travel huge distances within the pockets and briefcases of those who pick it up. When a relevant business situation arises, that people well search for your business card.
Video Business Cards – A New Development
When we think of a business card, we think of the 3.5 x 2 inch two-sided rectangle complete with contact details and graphics. Some cards may feature snazzy textured plastic, whilst at the extreme end features such as swiss metal and studded diamonds can cost up to $1,500!
However, this humble content format has received a bright new technological innovation which transforms its form and effectiveness.
Enter, the video business card.
What is a Video Business Card?
A Video business card combines the traditional print business card format with an LCD screen, every card is capable of seamlessly playing impactful video and audio content. To activate it simply open the card and the video content will start playing automatically.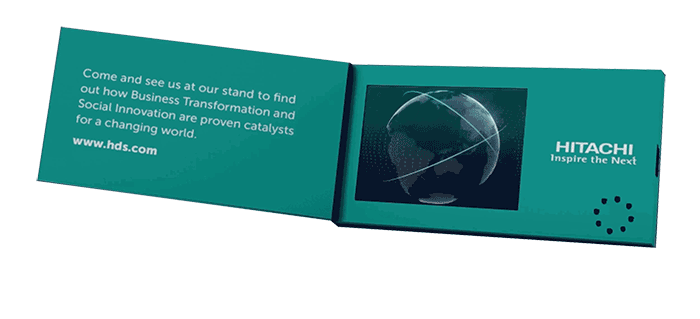 Sounds futuristic, right?
The video card enables you to pack a vast quantity of information into a tiny format. They're instantly striking, highly memorable and most importantly, they bridge the gap between traditional print content and video content.
Why Include Video Content Within A Business Card?
Video mirrors real life. We've evolved to primarily sense our visual world through sight and therefore, watching video is a deeply natural and intuitive activity.
Our nervous system revolves around our eyes – 90% of information is fed to the brain via the optic nerve. Studies suggest that we process moving images 60,000 times faster than text which led Dr. James McQuivey of Forrester Research to famously state that 1 minute of video is worth 1.8 million words.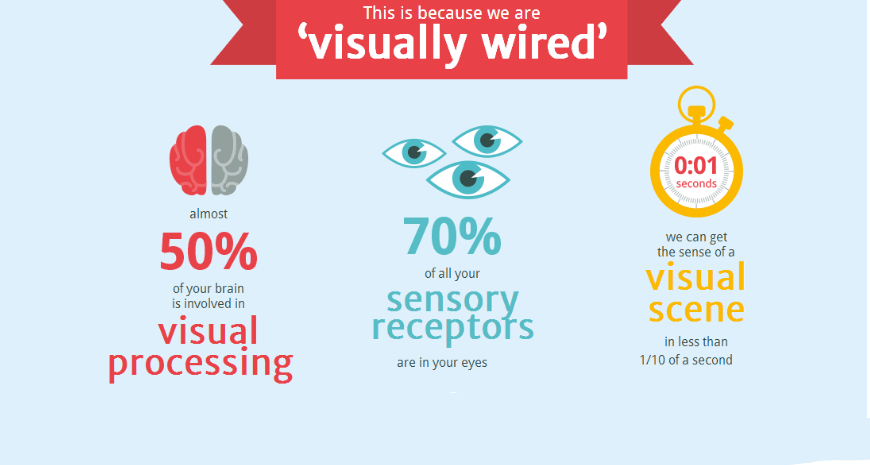 So, in short, videos captivate our attention, imagination and interest. Thanks to these powerful engaging characteristics video has become the internet's number 1 content type.
Video is believed to have the best ROI of any content marketing strategy.
Video marketing turbocharges marketing campaigns with stats suggesting a mighty 49% increase in revenue for businesses that follow a rigorous video strategy.
With a video business card, you can capture some of these awesomely powerful traits and combine them with traditional print design.
What Can You Use a Video Business Card For?
For Businesses
Showcase business details alongside recent achievements, developments, products, news or services.
Harness the power of video to demonstrate product usage or explain projects in clear detail.
Easily explain a complex brand, business, product or service in a small pocketable format.
Create intimate and personal testimonials to provide authenticity and legitimacy to your business.
For Individuals
Present personal contact details alongside recent work ranging from images and artwork to a video showreel, music and animations.
Create a more personal impression, which could take the form of a video introduction or animation.
Sum up your skills, abilities, projects and other details in a highly engaging format.
Create testimonials or customer success stories to show the times where you've succeeded or excelled.
Regular Business Card Pros and Cons
Pros

Cons

Very cheap to produce and can be produced in vast quantities
88% of all regular business cards find their way into the bin!
A well-known component of business culture and communication
The generic format makes standing out from the crowd a near-impossible task
Can be distributed freely at any event, conference or at any other opportunity
Our familiarity with business cards is accompanied by a growing sense of their mundaneness!
By employing decent graphic design, good looking cards are held on to
10 times more often than black and white cards
Video Business Card Pros and Cons
| Pros | Cons |
| --- | --- |
| A creative, innovative and impactful content medium that people are likely to engage with | More expensive to produce than regular business cards |
| Physically substantial, people are far more likely to throw keep a video business card | Requires the service of a niche manufacturer |
| Captures the powerful nature of video and combines it with physical print to create an exciting mixed medium format | Cannot be printed in the same vast quantity as a regular card and therefore, you need to be smarter with how and when you use them |
| Allows for information to be easily & effectively communicated | |
The Anatomy of a Good Business Card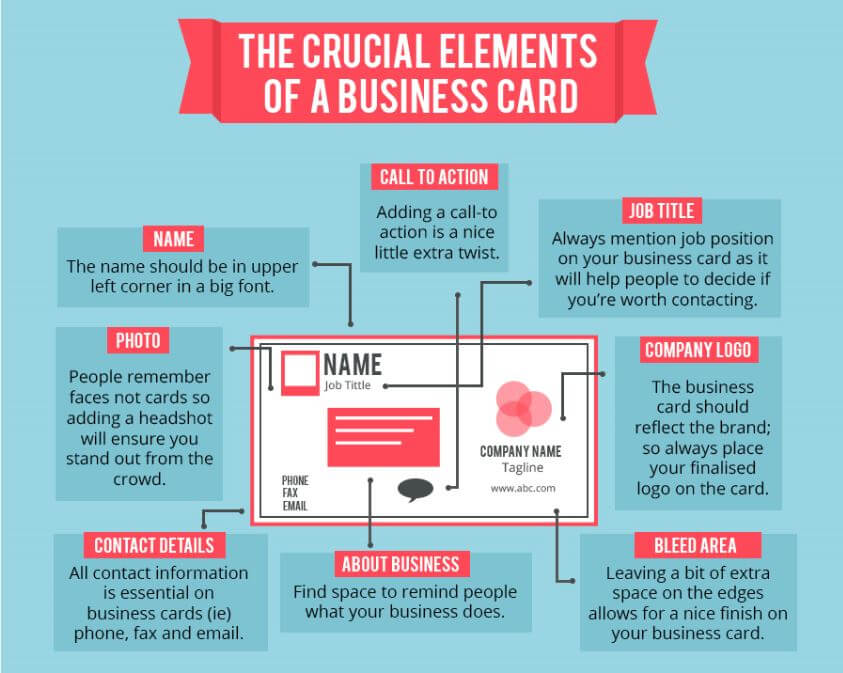 We all pretty much know what makes a business card but there are some smaller details and neat little features that are worth remembering:
Name and Identity
This is an obvious one. Carefully place emphasis on the appropriate component of your identity. For example, if you're an animator named John Smith then make sure to embolden your title: Animator.  This information is more important than your name as it helps to reinforce what services you're able to provide to the receiver.
Contact Details
Showing your name, address and telephone number is simply not enough for the modern world that's filled with an abundance of email and Social Media. Create a fine balance between placing the right contact details on your card whilst minimising clutter. For example, if you're a designer then portfolio links are essential but if you're an emergency electrician then phone number is probably all you need.
Tagline or Quote
Taglines can be slogans, quotes, comments or short descriptions. These can clarify your business for those glancing over your card.
For example, if you're a pizza company then sum up your unique selling point "Fresh Hand-made Italian Pizza to any SW Postcode in 15 minutes!"
As a financial service company you may opt for a quote or third-person remark: "XYZ Finance takes Pride in Managing our Client's Real Estate Investments for a Bigger and Brighter Future."
Maximise Your Value Proposition
Due to its small size, a business card must maximize the effectiveness of its value proposition.
For example, products or services should be described alongside their benefits:
"PowerCore LiPo batteries last 50% longer than the nearest competitors."
"MoveCo haulage boasts an enviable track record in the transportation and delivery industries."
A strong value proposition for your video business cards will clearly highlight where you can add tangible value to your target audience. An example of creating an effective value proposition is to present a problem then offer an immediate resolution or relevant advice.
"Want to be a top 1% Amazon seller? Contact one of our expert Amazon consultants today!"
Calls to Action: The Law of Reciprocity and FOMO

Use An Enticing Call to Action
Calls to actions involve requests for signs ups, website visits, subscriptions and more. 90% of those who read your card's headline will read your CTA. A CTA must contain information related to the service, why it helps, the price, benefits and features. In a business study, 81% of people believe that 'solved a pain point' was the most important aspect to a CTA.
"Having difficulties with customer retention? Call one of our skilled marketing advisors today."
"Find yourself swamped and exhausted with customer queries and support tickets? Discover [company name], the most powerful customer support software available today."
"Reaching profit targets is difficult for newly found startups, [company name] are here to offer the specialist assistance that brings brands like yours to the next level."
These are two psychology marketing "hacks" that you can use to greatly improve your readers chance of responding to your CTA.
The Law of Reciprocity
The Law of Reciprocity: if someone does something kind, positive, beneficial or nice for you then you are compelled to reciprocate by giving them something back in return.
You can capture this urge on your business card by offering something for free. It could be a coupon code for a discount, a free item, quotation, consultation, service – anything you can think of that is relevant to either you or your brand.
By offering something for free, you're projecting monetary value onto your card which creates greater impact and increased memorability. Combined with the video business card format, you can create a lot of authority and weight for you or your brand by offering a free proposition. This totally transforms the business card from its mundane cardboard format.
"Sign up free today and get this bonus addon sent directly to your mailbox."
"Get a free month to all our services, simply like us on Facebook!"
FOMO (Fear of Missing Out)
FOMO : FOMO stands for "fear of missing out" and is used to create a sense of urgency that triggers impulse buys or CTA visits. FOMO CTAs often revolve around time or space limits.
For example, you could indicate that you're running a flash sale: "We're just letting you know that for 5 DAYS ONLY…we've dropped out service price by a remarkable 75% to celebrate Christmas!"
Or, you could indicate that your service is open for a limited time only: "Our prestigious consultancy team have opened 50 more spaces for a limited time only, contact us now to avoid disappointment. We look forward to assisting you!"
Images
If your business card discusses a physical product then you'll need a product image. People don't want to just be told about a physical product, they want to see it. Photograph your image correctly and use a professional white background.
Testimonials
Where a CTA or value proposition isn't appropriate, a testimonial might be. If you're offering a premium or high-trust service, like a real estate investment service, then a testimonial from an authoritative client can build the trust that you need to generate more clients. Partnering your quote with a portrait of the person who wrote the testimonial will achieve even greater social proof.
Use Every Card Face Wisely
Normal business cards feature just two faces but video business cards feature 3 and this changes the ways in which you can utilise your card real estate for best effect:
Front Cover
The front cover lends itself to your brand or personal name, logo and core branding. The front cover should be visually rich and eye-catching with large bold typography and smart use of space. You could consider adding your tagline in a smaller font beneath your core logo or title. Keep the front cover simple and design-driven.
Inside Cover
The inside cover is perfect for quotes, blurbs, descriptions, testimonials or details of a product or service. Your inside cover can be more wordy and literal as people expect to read something after turning over a page. Alternatively, you could place an impactful and direct CTA within your inside cover to guarantee that readers will see it as soon as they open the card.
Back Cover
The back cover makes an ideal space for a free value proposition, like a coupon for a discount. This can reinforce your CTA as the reader will likely flip the card over last of all.
What Video Content Can I Add To A Business Card?
Video content adds a whole new dynamic to the business card. Your video can either seek to reinforce your card and its CTA or value proposition or could detail, describe or demo a product or service, illustrate your portfolio, walk viewers through your shop, show them an interview with office personnel, the list goes on!
We've compiled a full resource video content types which you can use to help guide your video creation process but here's a quick overview of the most popular types:
How-to/Explainer:
People prefer to watch product videos in opposed to reading product text. Using your video to explain a product helps communicate vital information and will make your reader question: "maybe this product is for me?" Video is also preferable to text when conveying information, with 72% of people stating that they like to use brand video to get an idea of what a product is.
Testimonial/Interview:
Video business cards aren't exclusively designed to house text and images, you can humanise your brand by displaying real-life testimonials and interviews. This gives your card personality and faces in videos have been shown to incite trust in viewers, heightening your authority and legitimacy.
One-to-one:
Directly addressing an individual with a business card creates rapport and trust. This may be suitable for direct mail campaigns with high-value clients or for B2B communication between executives or other high-level personnel.
Mixed Medium:
Vidioh offers 128mb of internal storage in our printed video business cards, which sufficiently stores 1 minute of video footage or many more minutes of medium quality footage. You can mix and match various video content types to create a more typical advert format. For further inspiration, check out our article on awesome inspiring B2B video campaigns.
Branding
Good branding will transform your video business card into a coherent and eye-catching piece of marketing collateral, here are 14 examples of exceptional branding to help point you in the right direction.
Read on to learn about the key elements for designing your card:
Creating Your Video Business Card
Step 1: Ideation
Get the Basics Right: We all understand that business cards are generally designed to summarize up your identity, industry, job role and contact details but video business cards offer you far more scope, and it's therefore wise to plan out how you want to use both your print and screen real-estate.
The way you utilise your video card's real estate ultimately depends on you or your business or brand.
At Vidioh, we've seen a diverse set of uses for our video business cards: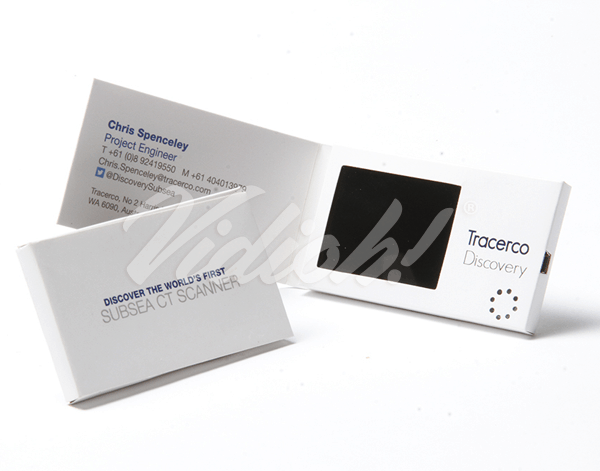 Tracerco specialises in subsea CT scanning, which involves the scanning of deep-sea pipes prior to further inspection or repair. This incredibly niche and complex industry utilised our video cards to describe the company's product in extensive detail which would not be possible with regular business cards.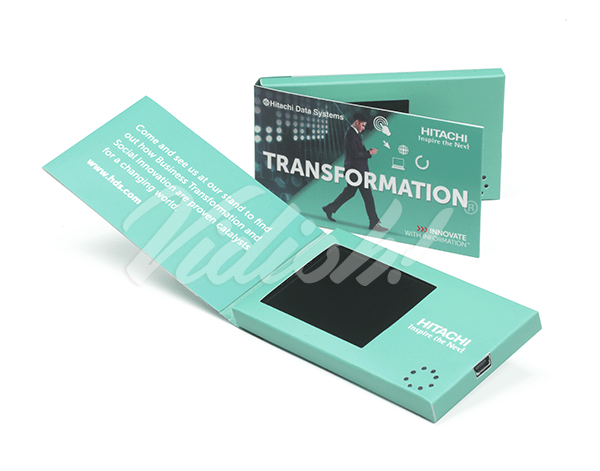 Hitachi developed this video business card specifically for a tradeshow. Video business cards don't just guide people to your stand, they have sticking power, even after the tradeshow has finished.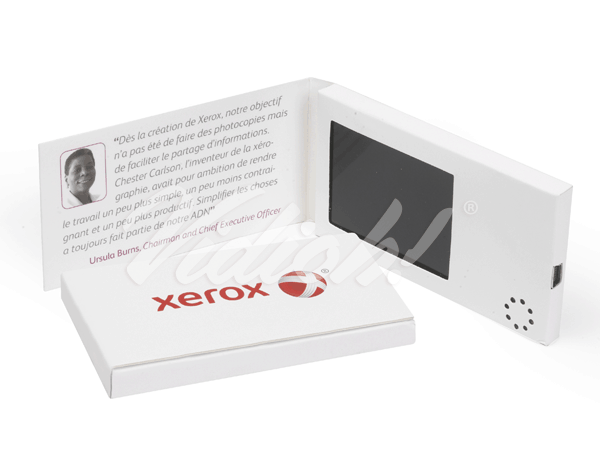 Tech company Xerox use their CEOs quote to sum up their photocopying and imaging product solution. The incorporation of video into this card frees up the necessary space required.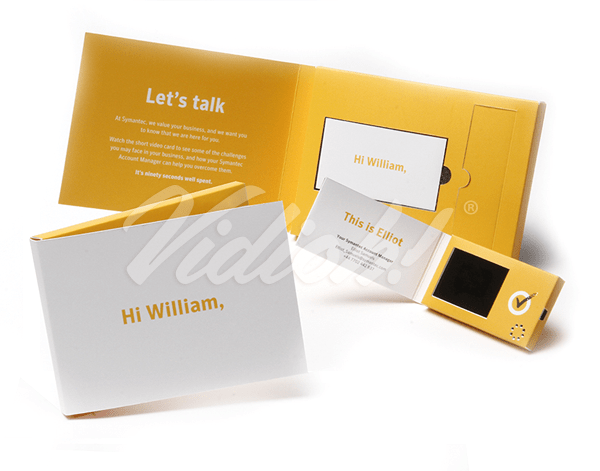 For direct mail and conferences or meetings, some video cards can be personalised to specific personnel. Symantec used these cards in a direct mail campaign to set up highly personalised lines of communication between their target audience and sales team.
In short, there's no wrong, right or surefire format for your video business card. If you want to get creative then feel free – who dares wins!
Know your Format and Dimensions: The format of a video business card differs to that of a regular business card. Because of the opening front, you actually have 3 print faces in opposed to just two.
Though other manufacturer specifications may vary, Vidioh offers 1 hour of internal battery life and 128mb of internal memory. This is enough to fit 1 minute of 720p video at a bitrate of 17mbs.

Materials: You may think that video business cards are only manufactured with just one type of print finish but actually, Vidioh offers many special finishes including metallic finishes, embossed typography and soft-touch materials. All of these things push your video card just a little bit further.
Step 2: Creation
Find Print Inspiration: To get creative, firstly you'll need to get inspired! We've compiled a guide on how to find inspiring print designs to get your creative juices flowing.
Decide on a Theme: The print design world is encompassing of styles ranging from ultra-minimal geometrics to super-bright maximalist designs. Deciding on one style might seem tricky but it's essential that you keep your design continuous and consistent.
Theme: Geometric/Minimalist/Modernist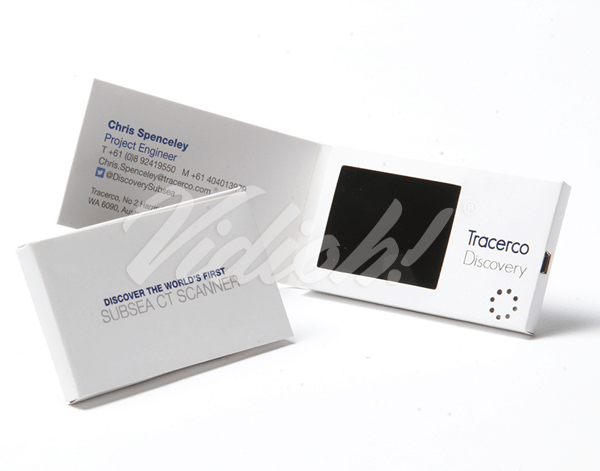 Minimalist designs are synchronous with modernity. They apply particularly well to technological and creative brands or individuals which wish to communicate that they're at the 'cutting edge' of their industry or niche.
Theme: Colourful/Maximalist/Vivid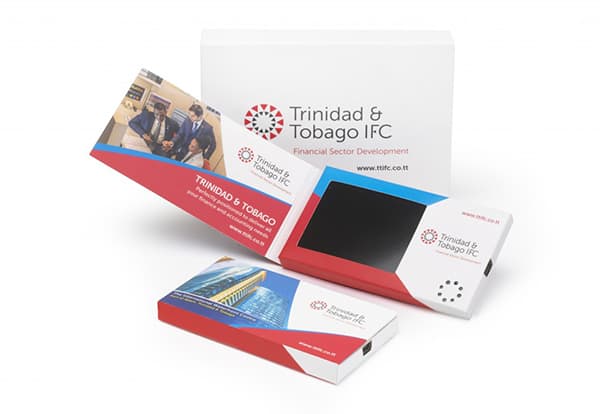 Maximalism is the opposite to minimalism but both can come across as sleek and modern. A maximalist theme utilises bright colours and bold design to create impact, perfect for creative industries or powerful products.
Theme: Traditional/Contemporary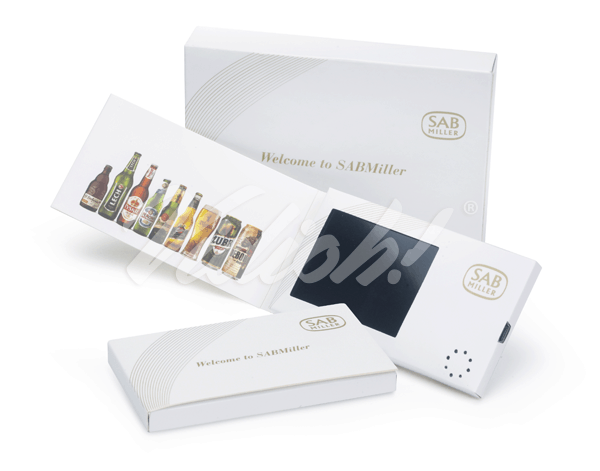 For sincere, astute or discerning brands, a classic business card design can elegantly sum up key points without distracting from the core message without any overly audacious design.
Familiarise Yourself with Colour Theory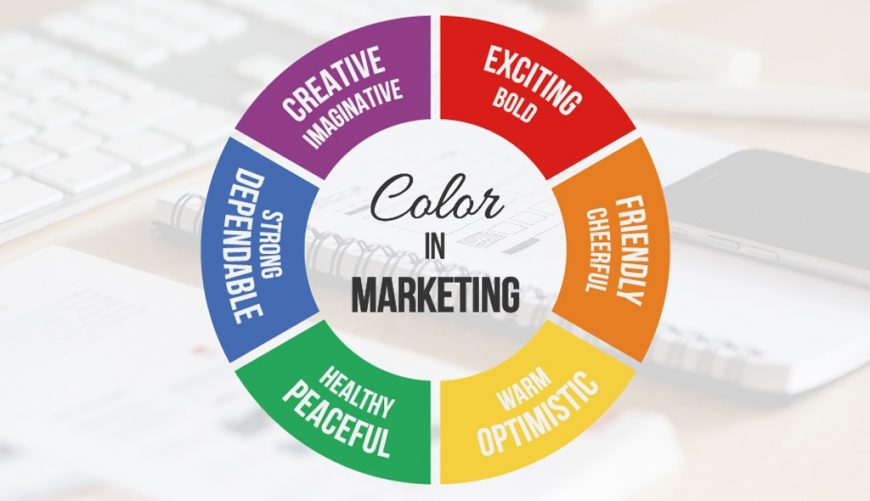 Colour theory is both old school and eternally relevant to anything design related. Google and eBay's multicolour typography, McDonald's red and yellow arches, Facebook's minimalist logo, blue Starbucks' green motif and Lego's red badge – they all associate themselves to particular behaviours or emotions through colour usage.
Red – Red is the colour of passion, adventure and power. In the theme examples above, we displayed a red video brochure that advertises high-performance lithium batteries. Red is a motivating colour that triggers us to 'get up and go'. Red and yellow are often used by food and drink brands, with the two most notable examples being Coca-Cola and McDonalds.
Blue – Blue, the colour of the sea and sky, evokes continuity, perspective and openness. Blue is extremely popular for social media brands. It reassures us with its familiarity and cleanliness.
Yellow/Orange – Yellow and orange inspire optimism, youthfulness and progression. Their warm characteristics remind us of those sunny days, evoking brightness, clarity and confidence.
Green – Green is heavily associated with the environment and nature and thus, it's a go-to choice for any brand which wants to portray environmental responsibility. Tech firms regularly employ green colour theory to make themselves appear more eco-conscious.
Purple – Purple has been associated with luxury since Roman times and it still evokes a sense of sophistication and one-of-a-kindness. Purple is supple and soft with a degree of passion and sensitivity.
Monochrome – Monochrome design appear balanced, technological, calm and unified. Monochromatism fits alongside almost any other form of design and that ensures that no matter where your design is placed, it integrates with its surroundings.
Typography
Your chosen font needs to align with your card's design to create consistency and continuity. Fonts are roughly sorted into two categories:
Serif: Serif fonts contain small lines at the edges of letters, numbers and symbols. Serif fonts tend to look more official, astute, educated or formal.

Serif fonts suit financial services, law firms, high-end brands and formal companies.

Sans: Sans fonts have become far more popular for website use thanks to their enhanced readability, simplicity and modernity.

Sans fonts suit everything else!
Wrapping it Up
Creating a video business card is an interesting and fun process that combines various forms of marketing and advertising with art, design, psychology and in the case of video cards, videography and video marketing.
With careful planning, consistent ideation, design, branding and determination, you can create a video business card which proves an extremely effective asset for you or your brand or business.