Vidioh is the world's leading provider of video brochures, video books and video business cards
An innovative marketing tool that combines the power of high-resolution video with the precision of direct mail, video brochures deliver highly impactful and effective marketing campaigns that get your message in front of key customers in an extremely engaging and memorable way.
High Resolution Video

Multiple Print Styles

Engaging Content

Increased ROI
---
Take a look at our showreel and see what Vidioh can do for you
Why choose Vidioh!
Vidioh was formed back in 2011 when high-resolution video brochures were still a relatively new technology – and certainly an unusual form of marketing. Since then the company has grown rapidly to become a leading player in the market.
Our success has been founded on our firm commitment to delivering the highest quality video brochure products and providing customers and clients with the very best level of service.
Quite simply, creating video brochures, effective communication and direct mail solutions are what we do best, and we continually strive to identify new products and opportunities to help enhance our clients' businesses and deliver highly engaging marketing campaigns.
2.4" Video Business Card
Vidioh Express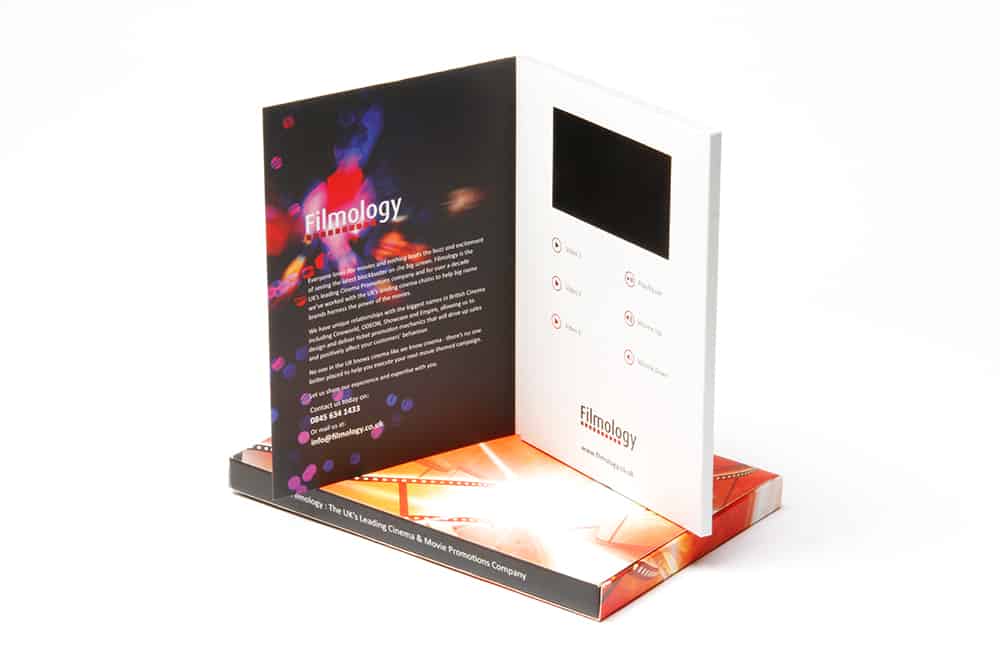 4.3" Video Brochure
4.0" HD Video Brochure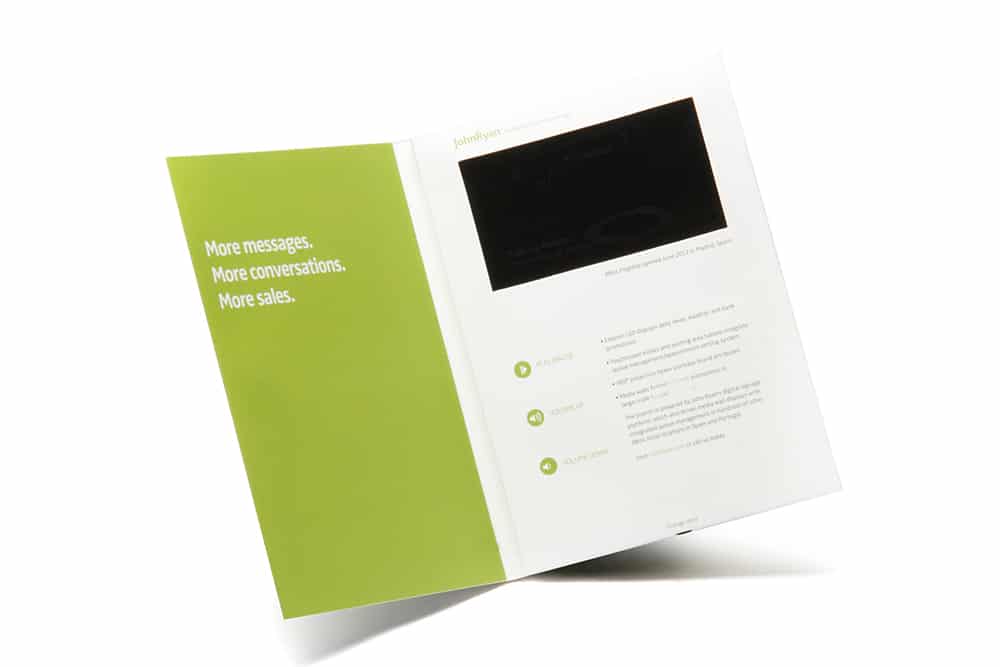 5.0" HD Video Brochure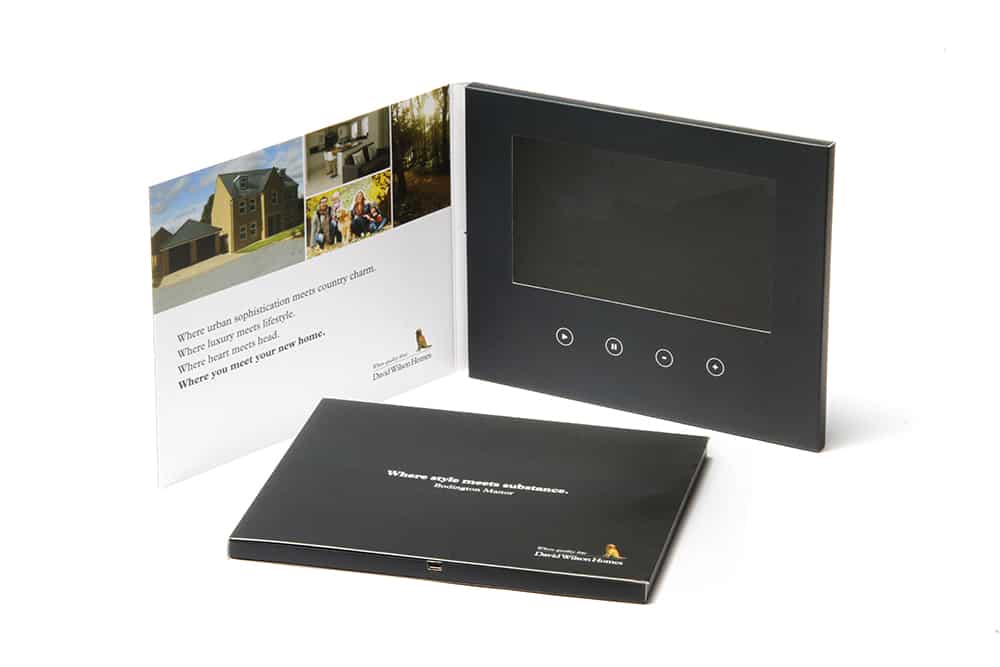 7.0" HD Video Brochure
Who's using Vidioh
---
Our video business card has impressed everyone who has seen it. It is innovative and attention grabbing, which is exactly what we needed. It is helping to let people know our Innovation Centre is open for business!- Krishani Ranaweera, NWES

I can say that the level of service, pricing, production lead times, quality of product and general communications, from all of your team, was excellent- Phil Wrighton, Juice Creative

Vidioh have produced a fantastic video brochure for us. It has allowed us to demonstrate our very visual software product in a unique and impactful way. They were incredibly helpful every step of the way and we will certainly be using them again- James Gough, Cydar Ltd

Working with Vidioh was a pleasure. They made everything easy and kept me fully informed every step of the way. Best bit of all – they delivered a quality product, in time, without any complications along the way. A very professional and friendly service.- Angelina Thorne, Spirit Healthcare

Vidioh stepped in to assist in issues we had with a previous supplier. They offered an excellent professional and friendly service and walked us through everything we needed to deliver a high quality product. The end result was an excellent product which was a great accompaniment to our traditional approaches to delivering information to our clients.- Lee Mason, Majedie Asset Management

We wanted to implement a targeted campaign to a new audience and found that the video brochures were an innovative and exciting way to deliver our message. The quality of the video brochures were fantastic, and we had great feedback from the recipients. Vidioh were so accommodating and the service was outstanding, they helped us meet a very tight deadline with an impressive turnaround time.- Nicola Fox, Toshiba Medical Systems Ltd

Working with the Vidioh team, we received very professional care and attention to the entire development process. The referral tool was wonderfully produced and arrived right on schedule. And so, we would be delighted to partner with the team again in the future- Kate Feldhouse, Paragon Bank

We were looking for an innovative way to showcase our services and company and the Vidioh Express Service was perfect. Attentive and helpful throughout the entire process, the team at Vidioh helped to deliver our video books on a fast turnaround. The result was brilliant, turning heads wherever we presented them!- Peter Foot, DS Smith

Pega has worked with Vidioh on a number of occasions over the past few years around the purchasing and fulfilment of video cards to help us drive awareness of our CRM solutions. The team at Vidioh has always been highly professional, responsive and flexible to meet our needs, which can often be demanding at times- Matthew Kent, Pega

Jamie and Lucy were very helpful through several rounds of changes and proofing. The artwork and order was then followed up efficiently and we received the cards in perfect condition. Excellent customer service and excellent quality!- Ansa Butt, Ultrahaptics

We have found the video brochures to have a great impact and increase the chance that it hits the right desk at one of our prospects. When we followed up, it was clear that prospects had shown it to their colleagues. Vidioh made it very easy to create and review what we wanted and delivery was ahead of schedule. - John Porter, Graphisoft UK.